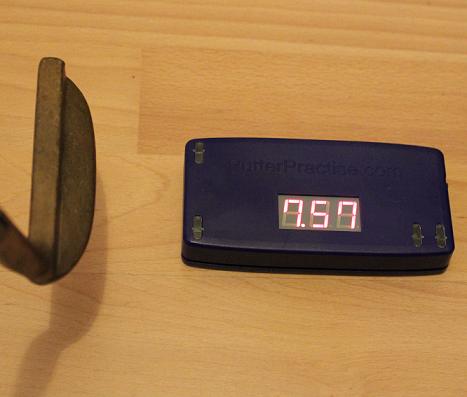 Description of Putter Practise
Putter Practise lets the golfer practise putting without a ball. The device is placed on the floor and a putter swings above it at a maxium height of 3 cm above the unit. Infra red sensors measurs the speed and angle of the putter accurately (1% error for both speed and angle). The unit is accurate because it measures the reflection front at millivolt level.
The unit cannot be used outdoors during daylight because daylight contains infra red light. On the other hand the unit works well indoors during day and night.
The display is a 3 digit display that displays numbers and text. The unit allows 100 hours or more of active usage from a single AA alkaline battery. The unit is reverse battery insertion protected.
The unit is operated from a single pushbutton. If you press the button once for a short duration, next command is displayed. By pressing half a second the current command is selelcted. By presseing one and a half second, a help text is displayed, explainging the command.
Typically, one selects "PUT" and "COM" (combined) to swing over the unit and the unit will display length in meters (default) or feet and diversion from a centerline 10 meters away or 30 feet away.
The sensors work by reflecing infra red light from the bottom of the club. This requires the club to have a shiny metal bottom; if it does not have this, then aluminium foil strips have to be fastened there; these are always supplied in abundance when we ship the units. For a small sum of money, one can order extra aluminumstrips to be sent home to you, which makes it possible to in the autumn when one has finnished played, can tape on the aluminum strips for winter training amd then at springtime remove them; the only reason why one may want to remove them is visual appearance reasons of the putter, one may think that the aluminumstrips may look ugly on the putter. The strips are easy to attach and easy to remove, and any remaining glue bits are easy to pollish away with tissue paper. Otherwise, one can always buy an extra putter for indoor use with Putter Practise.
You can train with the speed of the putter head only, then you have to calculate the length yourself. The advantage is that you can train independent of the varying speeds of different putter greens.
You can play mini golf on the unit, and you can play best shot with the unit, all with multiple players.
Both left and right handed golfers can use putterpractise, after an adjustment in the settings for lefthanded.
Technical specifications.
size: 125x65x20 mm (rounded to upper whole mm)
wheight: 82g (without battery)
battery: one AA alkaline or AA rechargable, one alkalilne last c:a 100 hours active usage
auto power off
low battery indication
measuremnt range distance: 0.5 m - 40+ m
accuracy: 1% (measured with repeated pendulum swings)